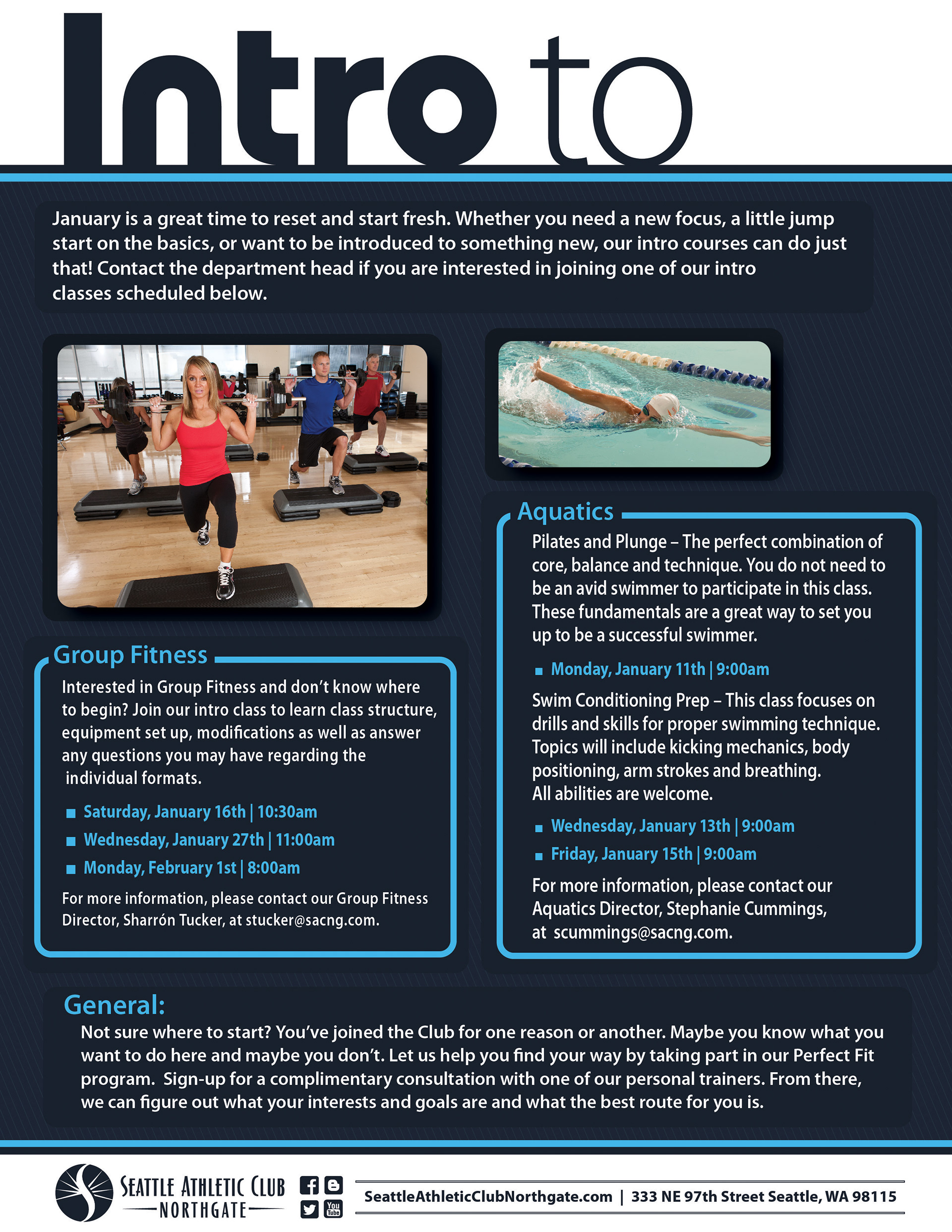 My goal for this project was to connect new members of the Seattle Athletic Club in Northgate to complimentary intro courses on fitness, group exercise, swimming, and Pilates. By utilizing club's new branding on the poster as a vehicle to introduce those new members to potential classes, it also familiarized them with the look of consistent club publications.
I acted as the art director and graphic designer. In this piece, I worked on the layout, background, and typography. Once the poster was finalized and approved for print, I managed the process of working with the club's vendors in getting the project printed and delivered.
I approached the design process several different ways, but the base of my ideas typically roots in the use of key words. I brainstorm on key words relating the project (e.g. "intro course", "fitness", "group ex"). Then I Google some of these keywords. Additionally, Behance is a visual source of inspiration from these same keywords. Lastly, I look over any past projects that would be in alignment with this program. After looking at all this information I start my design by pulling all of those elements into a new poster. This project was wide ranging and involved a lot of input from management of almost every department at the SAC – with courses from all over the club being offered to new members, everyone had a stake in the review of my first draft and the steps towards finalization. Negotiating through a crowd to the vital changes that needed to be made taught me to prioritize the approval of the person who originally requested the project. In this case, the Fitness Director at the Northgate club approved all the changes and the project was on its way towards finalization. Lastly, I worked with the club's vendors to get this project printed and published.
I created the background from inspiration that came out of our new club websites. I used and adapted another intro program branding piece to create the layout for the posters and fliers. My solution was to design a piece that combined the new and old yet brought new life to the current club branding. What I got out of this project was how far my branding and designs have come, as well as how difficult it can be to prioritize the right voices in the review process.